The
mini red shot glasses
basically saved my life during my four-year old's tonsillectomy recovery.
Strange
, but stick with me.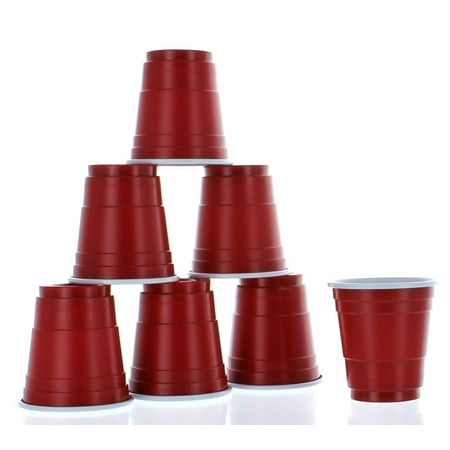 My daughter is well-known for her aversion to taking any sort of medication despite what flavors are offered. When I let the nurse know that, she basically said, "Well, then you're going to have to make sure she's drinking fluid after fluid after fluid for at least ten days". Apparently, it helps the pain and healing process be more manageable and not to discount dehydration prevention.
So, after countless bribes just to get the pain medication down, I knew I was going to have major push back on drinking anything. I had to come up with some way to make drinking fun. I gathered tips from pinterest and google searches. I made my shopping list of popcicles, Gatorade, Pedialyte, etc. , BUT after adjusting the advice to my daughter's personality, a light bulb moment!
I got the idea that drinking from a special little cup might make all the difference. She's used to drinking out of the small Dixie cups, so I knew that wouldn't be special enough. Hence, insert a flashback of me worn out carting my toddlers in Walmart distracting them from the candy/chip aisle and racing down the paper products aisle. In the distance I saw those little red solo cups out of the corner of my eye and thought "a shot of cold tequila with a juicy lime and salt sounds pretty nice right now".  I love how our brain takes mental pictures and stores them like a personal filing cabinet to be used for absolute perfect time!
Any way, after playing up how adorable that tiny cup was and that it was perfect for my tiny little girl (my daughter is in complete denial that she is not a baby anymore) it worked! She was excited to drink her beverages in that cute little cup. The recovery process was hard, but thanks to my research, I was mentally prepared and honestly, have to say, that it went better than expected. I truly expected the worst…the absolute worst.
So, yes, you could use the mini red solo cups for their intended purpose…most likely for your favorite liquor shots or when you decide to host a craft beer tasting at your house (those cups would be perfect for a beer tasting!). It's just another reminder to me that parenting brings so many different chances to show compassion, love, and at the right times, of course, a healthy dose of teeny tiny innocent, manipulation. 😃
SUMMARY:
Purchased at:
Walmart
(I've seen them at Dollar Tree as well!), Amazon
Price: under $5.00
This post contains affiliate links. You don't pay any extra, and I earn a small commission.